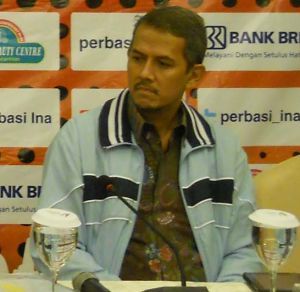 Yogyakarta – Although still blind map of an opposing force, the Indonesian team aiming to qualify for the top three in the championship basketball 2nd South East Asia Basketball Association (SEABA) U-16 Qualifying Championship for Men 2013.
Championships which will be held in Yogyakarta Amongraga GOR began on July 14 to 18 was followed by 5 ASEAN countries: the Philippines, Malaysia, Singapore, Thailand and host Indonesia.
"We still do not know the strength of the opponent, it's just my guess for the Philippines still remains number one," said Chairman of the PP PERBASI, Anggito Abhimanyu told reporters after meeting Rich techniques at the Sahid Hotel in Jl Magelang Yogyakarta, Saturday (13/07/2013 ).
According to him, in the same championships in 2011 in Banting, Malaysia, the top three occupied the Philippines, Malaysia and Indonesia. The top three who escaped from this championship will represent Southeast Asia to follow FIBA Asia Championship U-16 to be held in Tehran, Iran, at the end of September to early October 2013.
"All the power of the same enemy. Seeded Nothing and no one naturalized player. Players are all children grade 3 and grade 1 junior high school," he said.
Meanwhile, the manager of the basketball team U 16, Christine Gono added U-16 national team was formed after the selection / championships in Surabaya, East Java. A total of 12 players who prepared this is the result of three years of monitoring players started the championship age 14, 15 and 16 years old. Of the 12 players there is one player who suffered an injury that M. Firdhan Maulana, who suffered the injury during practice match in London.
"We believe Indonesia can escape the big three of these championships," said Christine.