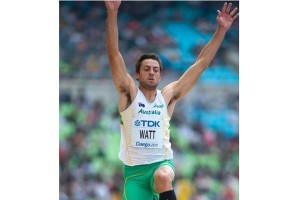 Sudney (ANTARA News) Silver medalist Olympic long jump numbers, Mitchell Watt, Tuesday, retreating from the world athletics championships in Moscow because of an injury he suffered relapse has not yet healed.
Australian athlete said, preparation is not good to look at the world athletics championships which take place in the Russian capital on 10 to 18 August 2013.
"I've been struggling with pain in the ankle and my hamstring since the beginning of this season. But I was not healed properly when practiced especially in the competition," said the 25-year-old athlete.
He jumped 8.16 meters in the far past and the London Olympics are entitled to a silver medal, while Greg Rutherford of Britain won the gold medal, so as quoted by AFP.
"I'm not the type of athlete who just want to appear in the competition. I can not do it because I was not 100 percent healthy. I need more time to recover pain in my leg," he said.