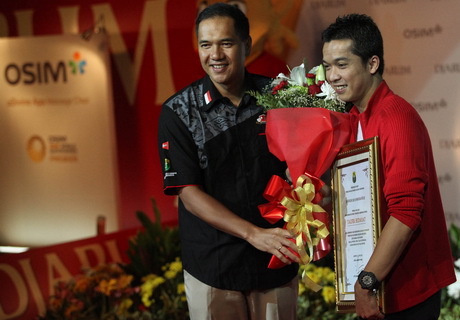 Jakarta – Before the final of Djarum Indonesia Open Super Series Premier 2013 begins, a farewell ceremonies held Taufik Hidayat. Taufik has said goodbye to the public Senayan.
Taufik was officially retired a few days ago. Indonesian badminton legend that marks the end of his career as a professional player with a defeat in the first round of Djarum Indonesia Open Super Series Premier 2013. He defeated players India, Sai Praneeth B.
Sunday (16/06/2013), the committee prepared a special event for the release Taufik. On this occasion, Taufik was given the opportunity to say goodbye to badminton lovers in the country.
"After 25 years of my career in badminton, 17 years as a professional player in the national and international level, this might be the right time for me to decided to retire," said Taufik, who today is wearing a white T-shirt wrapped in a red jacket.
"Thank you for badminton fans who supported me over the years," said Athens Olympic gold medalist, 2004.
"It's a very emotional moment for me. I do not know what else to say, but thank you so much for all the support and support her during this time," he said with tears in her eyes.
In the same occasion, Chairman Gita Wirjawan PBSI also thanked for his outstanding contributions given to the world badminton Indonesian Taufik.
"On behalf of PBSI family and all the people of Indonesia, we are grateful for their dedication and contribution Taufik Hidayat. There's no such thing as a former champion. Once a champion always a champion," said Gita.