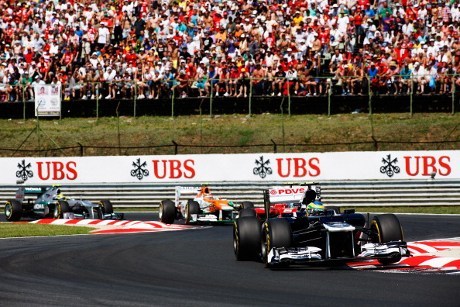 Budapest – International Automobile Federation (FIA) to implement the use of two DRS zones at the Hungarian Grand Prix this weekend. This step was taken so that the race is better and tighter.
Formula 1 tenth series will be held at the Hungaroring circuit on Sunday (07/28/2013) later. Consider the character of the tracks are narrow and winding, this year the FIA ​​also took steps two DRS zones so that the rider has more chances to precede each maneuver.
As reported by Autosport, the bend after the first zone was 13 when the rider passes the start line to the first corner, which is the longest straight track.
While the second zone positioned after the bend. Although the distance is not too long of a bend in two, but this zone is chosen so that the rider can continue the maneuver is done in the first zone.
After successfully close the position with his opponent in the first zone, the riders still had a chance in the second zone precedes.
Hungaroring circuit with a length of 4.3 km and has 16 corners with clockwise direction of racing. This circuit speed record was recorded in the name of Formula 1 legend Michael Schumacher in 2004 with a record of one minute 19.071 seconds.