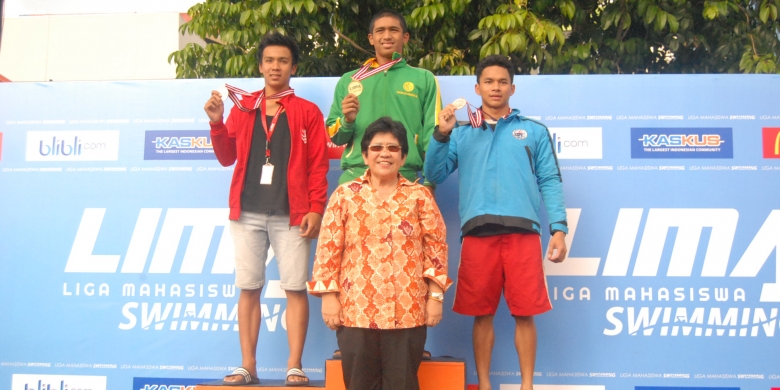 Swimmers Jakarta State University (UNJ), Gerdi Zulfitranto, won two gold on the first day Student League (LIMA) Swimming in 2013, which took place at the Swimming Pool Pertamina Simprug, South Jakarta, 29-30 June 2013.
Gerdi won gold on the 200 meter breaststroke with a record of 2 minutes 30.17 seconds, and the 50-meter breaststroke with a time of 31.31 seconds.
Gerdi student who is majoring in sport in UNJ failed to win gold in the 200-meter medley. He had to settle for a silver medal.
"If there is no Idam Dasuki, could possibly be gold. He's a former national training athletes, "said Gerdi after the game in Swimming Pool Pertamina, Simprug, South Jakarta, Saturday (06/29/2013).
Gerdi and other participants did not expect to meet in the Student League Swimming Idam. Craving is a student STKIP Bandung. On the first day, she won the 200 meters gold and silver medley 50 meter breaststroke.
"I think he's still in pelatnas. Because I understand that athletes are competing at the national training Asian Indoor Games in Korea. Turns out he was not a baseball athletes participate for national training, "said another swimmer UNJ, Rays Tri U Chaniago, who also successfully won gold in the 100m backstroke.
After bagging two gold and one silver, Gerdi hoping to add another gold while down in the 100-meter breaststroke on the second day, Sunday (30/06/2013).
"Actually, only FIVE warming. I put the target in the Governor's Cup July 4 to 6 later because the results will be very influential to be drawn into Pelatda city, "said Gerdi who joined the swimming club Kusuma Hope.